Summer of 1876:
San Francisco is in the fierce grip of a record-breaking heat wave and a smallpox epidemic.
Through the window of a railroad saloon, a young woman called Jenny Bonnet is shot dead. The survivor, her friend Blanche Beunon, is a French burlesque dancer.
Over the next three days, she will risk everything to bring Jenny's murderer to justice - if he doesn't track her down first.
The story Blanche struggles to piece together is one of free-love bohemians, desperate paupers and arrogant millionaires; of jealous men, icy women and damaged children. It's the secret life of Jenny herself, a notorious character who breaks the law every morning by getting dressed: a charmer as slippery as the frogs she hunts.
In thrilling, cinematic style, FROG MUSIC digs up a long-forgotten, never-solved crime. Full of songs that migrated across the world, Emma Donoghue's lyrical tale of love and bloodshed among lowlifes captures the pulse of a boom town like no other.
Frog Music
by Emma Donoghue will be be published by
Picador - Pan Macmillan
on 27 March 2014.
Sweltering heat, disease, burlesque, crime, sex, baby farms, cross-dressing and murder. That was the summer of 1876 in San Francisco.
The story opens with a murder. Jenny Bonnet, the cross-dressing, frog-hunter, infamous throughout the city is shot dead. Her friend Blanche is determined to prove who killed Jenny.
The story takes the reader back to Jenny and Blanche's first meeting. Blanche herself is no stranger to the murkier side of life, she earns her living by putting on overtly sexual exotic dances for the patrons of The House of Mirrors and shares her home in Chinatown with her lover Arthur and his companion Ernest. But even Blanche is a little shocked by Jenny. Totally eccentric and free-living, Jenny continues to wear men's clothes despite being constantly arrested for this crime. She also rides a penny-farthing and catches frogs for a living.
The story unfolds, we learn more about both Jenny and Blanche as they form their unlikely friendship. We learn about Blanche's small son P'tit who was dispatched off to a baby farm. We learn more about the odious Arthur, and we fall for the charms of Jenny
Blanche's determination to seek justice and truth and to be reunited with her baby boy enables her character to grow. She becomes stronger and gains self-respect and her determination shines through.
Emma Donoghue is an author who never fails to amaze me, she seems able to turn her hand at anything, be it the contemporary and most harrowing
Room,
or her wonderful flair for short stories in
Astray
.
Frog Music
, like
Slammerkin
before it, is historical fiction with colour and with flair. Jenny Bonnet's murder really did happen and the story for
Frog Music
has been lifted and woven into a vivid and vibrant novel that captures the reader's imagination and transports back to those heady early days of San Francisco.
At times
Frog Music
can feel a little over busy, with a myriad of events seeming to happen all at once. However, the setting and the sense of place is just perfect, the buzz of San Francisco with it's sweltering heat and noise and air of danger makes the city the central character of the whole novel.
A murder mystery, a snap-shot of a time and of events that have been meticulously researched and combined with the songs and slang words of the day;
Frog Music
is a delight, a story to savour.
My thanks to Emma Bravo, from
Picador
who kindly sent my copy for review
From www.emmadonoghue.com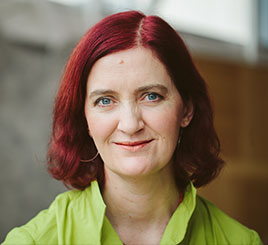 Born in Dublin, Ireland, in October 1969, I am the youngest of eight children of Frances and Denis Donoghue (the literary critic, Henry James Professor at New York University). I attended Catholic convent schools in Dublin, apart from one eye-opening year in New York at the age of ten. In 1990 I earned a first-class honours BA in English and French from University College Dublin (unfortunately, without learning to actually speak French). I moved to England, and in 1997 received my PhD (on the concept of friendship between men and women in eighteenth-century English fiction) from the University of Cambridge. From the age of 23, I have earned my living as a writer, and have been lucky enough to never have an 'honest job' since I was sacked after a single summer month as a chambermaid. After years of commuting between England, Ireland, and Canada, in 1998 I settled in London, Ontario, where I live with Chris Roulston and our son Finn (10) and daughter Una (6).